St. Thomas Aquinas: priest, Doctor of the Church
Celebrated on January 28th
Tommaso was born in Roccasecca in 1225, in the feud of the Counts of Aquino (Frosinone), from Landolfo, a nobleman of Lombard origin, and Theodora.
At the age of only five he was placed as an oblate in the nearby Abbey of Montecassino to receive religious education. It was moving the seriousness with which this child, staring at those venerable monks, with anxious eyes asked: "Who is it God?".
At ten he was already at the University of Naples, at the convent of S. Domenico Maggiore, to complete his studies, and here, unbeknownst to his parents, having fallen in love with the ideal Gusmano, at fourteen he wore the white dress. His superiors, having sensed his precocious talent, and to allow him to complete his studies, sent him to Paris, but the young man, before he could get there, was captured by his family and brought back to his father's castle of Monte S. Giovanni Campano .
The period of imprisonment, which lasted a year, was characterized by pressure from the family who wanted to make him renounce the Dominican habit, and ended, through the intercession of Pope Innocent IV, with his release (or, according to some biographers, with his escape). Of Thomas.
After short stays, first a Naples and then in Rome, in 1248 he arrived in Cologne to follow the lessons of Albert the Great, a German philosopher and theologian who tried to reconcile Christianity with Aristotelianism; later, Tommaso wanted to be the executor of his master's project.
From 1252 he taught at the University of Paris, starting as "baccalarius biblis", and after 4 years he was able to give his first lecture in the chair. Meanwhile, Thomas fought against the Averroists (followers of the Arab philosopher Averroes, according to whom the human soul, taken individually, is mortal), who believed faith irreconcilable with reason: "Faith is for simple souls, philosophy for educated people". Thomas also fought against the Augustinians, philosophically Platonists or Neo-Platonists, who considered Aristotelianism irreconcilable with faith.
For Thomas the soul is created"in the image and likeness of God"(as Genesis says), unique, immaterial (without volume, weight and extension) not localized in a particular point of the body, transcendent as God and like Him in a dimension outside of space and time in which the body and other entities are. The soul is "whole in toto corpore", contained entirely in every part of the body, and in this sense inextricably linked to it.
According to Thomas's thought:"Thought and reason can be reconciled, indeed, reason serves human beings to question themselves even on some enigmas of faith. The purpose of faith and reason is the same, if then reason is in contrast with faith it must yield to this".Faith consolidates, integrates and illuminates the patrimony of truth that human reason acquires; however, while Anselm of Aosta proceeded a priori in his ontological proof of the existence of God, Thomas proceeds both a priori and a posteriori. He believed knowledge to be acquired only through sensitivity and rejects Augustine's view of knowledge, which thought that this occurred through divine illumination.
The knowledge of universals, however, belongs only to angelic intelligences; we, on the other hand, know the universalspost-rem, that is, we derive them from sensible reality. Only God knowsbefore rem. Knowledge is, therefore, a process of adequacy of the soul or intellect and the thing, according to a formula that gives reason to Thomas's sophisticated Platonism: "Veritas: Adaequatio intellectus ad rem. Adaequatio rei ad intellectum. Adaequatio intellectus et rei."(«Truth: Adaptation of the intellect to the thing. Adjustment of the thing to the intellect. Adjustment of the intellect and the thing. »).
In 1259 he returned to Italy: he made friends with William of Moerbeke (great translator of Aristotle) ​​and collaborated on some writings with Pope Urban IV (Jacques Pantaleon, 1261-1264), at the convent of Orvieto, where the pontiff had temporarily settled.
On behalf of the Pope, he composed the office and the hymns for the newly established feast of Corpus Domini (8 Sept. 1264), among which the "Pange Language" (Sing, oh my tongue) with the very famous last two verses of the "Tantum Ergo" (Let us worship, therefore, prostrate yourself) that the Catholic liturgy still elevates during the blessing with the Blessed Sacrament.
Subsequently, he went to Rome to organize the courses of the Studio of S. Sabina and, in 1267, the Father Clement IV (Guy Foulques, 1265-1268) called him with him to Viterbo, where he often preached from the pulpit of the church of Santa Maria Nuova.
It was precisely during the years spent in Italy that he composed numerous works such as the "Summa contra gentiles", The "De regimen principium", The "De unitate intellectus against Averroistas" and a large part of his masterpiece, the "Summa Theologiae", a source of inspiration for Catholic theology to this day.
In 1269 he was recalled to Paris by his superiors and began, through a strenuous theological defense of the mendicant Orders, his work of refutation of Augustinian Neoplatonism (as opposed to his Aristotelianism) and adveroist doctrinal errors.
In 1272, called by Charles I of Anjou, he was again a Naples and took charge of the reorganization of theological studies at the convent of S. Domenico.
In January 1274 Blessed Gregory X (Tebaldo Visconti, 1271-1276) ordered him to attend the Council of Lyon II, to verify what the differences between the Church Latin and Greek, and if it were possible to smooth them out.
Thomas, already ill, going to the Council of Lyons, arrived in Fossanova (LT), on 7 March 1274 he died while he was a guest of the Cistercians.
He was canonized on 18 July 1323 by Pp John XXII (Jacques Duese, 1316-1334).
When the Pope enrolled Thomas Aquinas in the Register of Saints, to those who objected that he had not performed great prodigies, either in life or after his death, he replied with a famous phrase: "How many theological prepositions he wrote, so many miracles he performed". And this is the greatest recognition that could be given to the great theologian and Doctor of the Church, who with his "Summa theologica" systematically gave a scientific, philosophical and theological foundation to Christian doctrine.
St. Pius V (Antonio Michele Ghislieri, 1566-1572), in 1567, proclaimed him Doctor of Church. Pp Leo XIII (Vincenzo Gioacchino Raffaele Luigi Pecci, 1878-1903), in 1879, declared him Patron of Catholic schools.
On January 28 the Church commemorates the deposition of his relics, which took place in 1369 in Toulouse in the church dedicated to him. The relic of hand right, however, is found in Salerno in the church of San Domenico.
St. Thomas Aquinas represents one of the main theological pillars of Church Catholic; he is also the point of connection between Christianity and classical philosophy which has its foundations and teachers in Aristotle, Plato and Socrates.
St. Thomas Aquinas is the patron saint of theologians, academics, booksellers and students.
For further information, read the Catecheses of Pope Benedict XVI:
>>> Saint Thomas Aquinas(1)
[French,English,Italian,Portuguese,Spanish,German]>>> Saint Thomas Aquinas (2)
[French,English,Italian,Portuguese,Spanish,German]>>> Saint Thomas Aquinas (3)
[French,English,Italian,Portuguese,Spanish,German]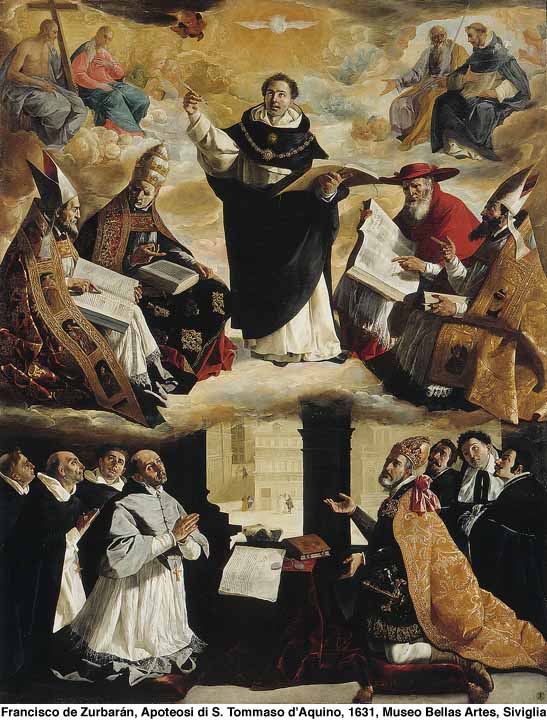 source © vangelodelgiorno.org
Last Updated: December 17, 2022 14:03 by Remigio Ruberto